29th April 1770: Captain Cook Arrival at Botany Bay - 250th Celebrations Wednesday 29 April 2020
(Very little recognition as all functions were cancelled due to the Covid-19 Pandemic)
Excerpt from Southland of the Holy Spirit

Read full article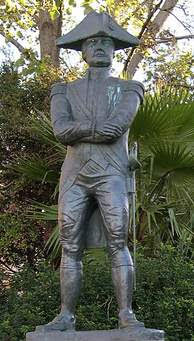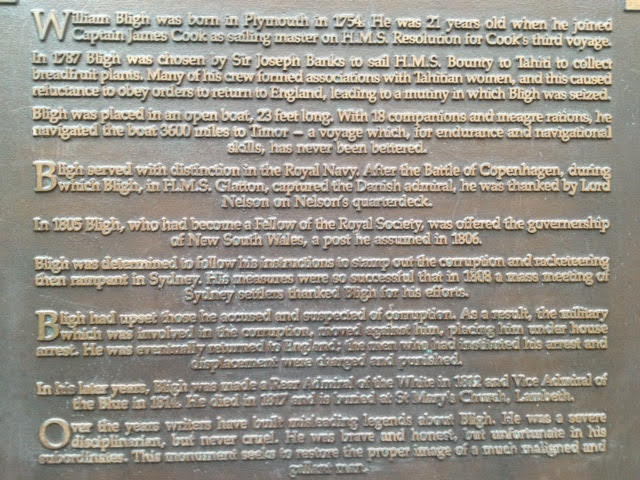 William Bligh was born in Plymouth in 1754. He was 21 years old when he joined Captain James Cook as sailing master on HMS Resolution for Cook's third voyage.
In 1787 Bligh was chosen by Sir Joseph Banks to sail HMS Bounty to Tahiti to collect bredfruit plants. Many of his crew formed associations with Tahitian women, and this caused reluctance to obey orders to return to England, leading to a mutiny in which Bligh was seized.
Bligh was placed in an open boat, 23 feet long.... With 18 companions and meagre rations, he navigated the boat 3600 miles to Timor - a voyage which, for endurance and navigational skills, has never been bettered.
Bligh served with distinction in the Royal Navy. After the Battle of Copenhagen, during which Bligh, in HMS Glatton, captured the Danish admiral, he was thanked by Lord Nelson on Nelson's quarterdeck.
In 1805 Bligh, who had become a Fellow of the Royal Society, was offered the governership of New south Wales, a post he assumed in 1806.
Bligh was determined to follow his instructions to stamp out the corruption and racketeering then rampant in Sydney. His measures were so successful that in 1808 a mass meeting of Sydney settlers thanked Bligh for his efforts.
Bligh had upset those he accused and suspected of corruption. As a result, the military which was involved in the corruption moved against him, placing him under house arrest. He was eventually returned to England, the men who had instituted his arrest and displacement were charged and punished.
In his later years, Bligh was made a Rear Admiral of the White in 1812 and Vice Admiral of the Blue in 1814. He died in 1817 and is buried at St Mary's Church, Lambeth.
Over the years writers have built misleading legends about Bligh. He was a severe disciplinarian, but never cruel. He was brave and honest, but unfortunate in his subordinates. This monument seeks to restore the proper image of a much maligned and gallant man.
View this video on the faith of William Bligh.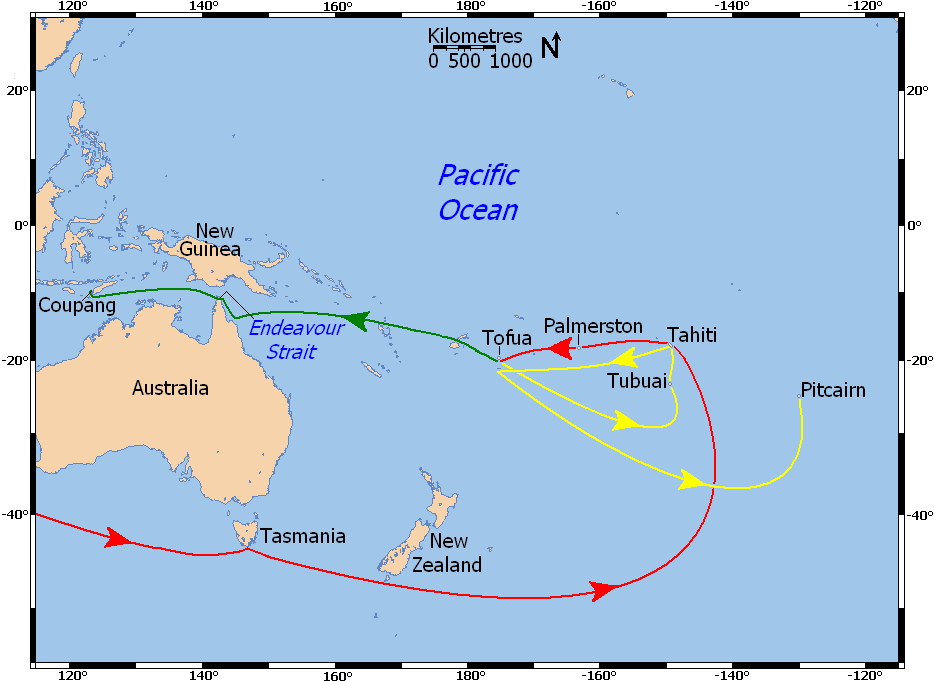 RED: Bligh's voyage. YELLOW: Bounty Voyage. GREEN: Bligh's open boat "voyage".