The De Quiros naming of Austrialia later changed to Australia
http://rupertgerritsen.tripod.com/pdf/published/Austrialia_Globe_72_2013_pp23-30.pdf
A tribute to Influential Australian Christians
https://atributetoaustralianchristians.wordpress.com/
Heritage Resources
The desire and purpose of this website is to present how our individual and national identities are linked to the nation of Israel.
http://www.heritageresources.com.au
National Christian Heritage Sunday celebrates the Gospel of Jesus Christ arriving on Australia's shores. Visit the website for more information.
Stories of from Songs of Hope
Here you will find story, prayer, hymn, sermon and song podcasts from radio program "Songs of Hope" on radio station Southern FM 88.3 in Melbourne
http://songsofhope883.com/australian-stories-list/
AUSTRALIAN DICTIONARY OF BIOGRAPHY
http://gutenberg.net.au/dictbiog/00-dict-biogIndex.html
DIDUNO
A series of interesting articles showing an often unknown Christian connection
Resources relating to Australian History available from Project Gutenberg of Australia and Project Gutenberg in the United States. This includes online books by William Bligh; William Dampier; Sir Ernest Scott; David Collins, Arthur Phillip; John Hunter; Watkin Tench; Sir John Franklin and many others.
http://gutenberg.net.au/aust-history.html
Journals of Australian Land and Sea Explorers and Discoverers.This includes the journals of the most famous explorers such as James Cook; William Dampier; Edward John Eyre; Matthew Flinders; John and Alexander Forrest; Ernest Giles; Frank and Augustus Gregory; George Grey; Ludwig Leichhardt; John McDouall Stuart; Charles Sturt; Abel Tasman and others such as Gregory Blaxland.
http://gutenberg.net.au/explorers-journals.html
A Short History of Australia by Ernest Scott
http://gutenberg.net.au/shorthist.html
Many other biographies such as John Batman who "founded" Melbourne; Willem Janszoon (a.k.a. Jansz); James Cook and Ludwig Leichhardt
http://gutenberg.net.au/my-site-map.html
Australian Discovery "1606 and early maritime contact with Australia" with BOOKS RELATING TO THE EARLY DISCOVERY OF AUSTRALIA
http://gutenberg.net.au/aust-discovery.html
Independent, non-partisan and non-profit organisation committed to increasing public understanding and appreciation of the Constitution, its history and contemporary relevance
Constitution Education Fund - Australia (CEFA)
English Christian Heritage:
http://www.englandschristianheritage.org.uk/
World War 1
Fighting McKenzie & Gallipoli The story of William McKenzie, a Salvation Army chaplain and one of the first to land in Gallipoli after the initial attack.
Click here to view this 21 minute video produced by Adventist Media Network
The Last Post Ceremony Australian War Museum commemorating the Service of Captain Andrew Gillison, 14th Battalion, AIF, First World War
Click here to see video
WW1
Click here to view this 23 minute video on the Anglican Chaplain TP Bennet at Gallipoli produced by Adventist Media Network
WW11
Click here to view this ten minute of the Japanese Commander Captain Mitsuo Fuchida who commenced the Pacific War later giving his life to Christ.
Click here to learn more on Fitsuo Fuchida
Revival In Melbourne!
Over 100 years ago Revival came to Melbourne
10,000 a night at the Royal Exhibition Building May 1902
Did You Know There Was A Revival In Melbourne 100 Years Ago?
In 1898 a petition with 15,300 signatures was sent to D.L.Moody in USA asking him to come and lead a crusade. He died before he could come, but in 1902, R.A. Torrey came and led a crusade at the Exhibition Building. With the population of Melbourne then 500,000, over 250,000 people came every week! 8000 people came to Christ!
The Secret
All the Evangelical Churches in Melbourne were working together.
They held 1700 weekly prayer groups across Melbourne!
They appointed 45 evangelists to preach in every area of the city.
"The Vital Elements: Unity And Prayer"
From: "Evangelical Christianity in Australia" Stuart Piggin (Oxford)
The Many Revivals In Melbourne:
1843
1859 Started at Brighton
1879
1902 The Great Revival – with R.A. Torrey and Charles Alexander
1926 Sunshine Revival
1959 Billy Graham Crusade was the largest, most successful evangelistic campaign in human history. 719,000 attended in Melbourne with 26,440 inquirers "More prayer has been made for the Melbourne and Sydney crusades than for any single event in the whole history of the Christian Church" Billy Graham 1958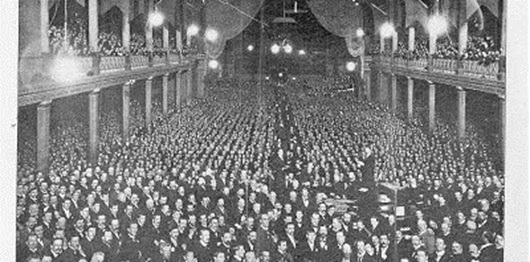 How Did The Gospel Influence The Shape Of Australian Society?
Read more at
http://partnersinprayer.org.au/revive-melbourne-again-lord/
A Hunger for God's Word 1909
Revival in Australia, Part Three
By Jason Harris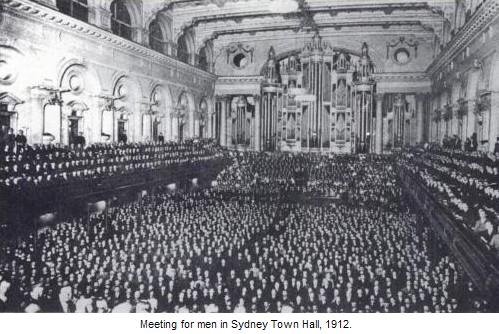 ...in Sydney, the Town Hall was not large enough to contain the crowds that came to hear the preaching. But once again God worked and many lives were changed and many souls were converted through the ministry of the word in Sydney. Though Chapman was the leading preacher, he brought with him a whole team of workers from Canada, Ireland, Scotland, England, and America. These, in conjunction with dozens of Australian pastors and evangelists, formed a team that preached and ministered systematically in a broad range of ways and places in each city where they ministered.
On the last Sunday of the Sydney Mission, the throngs were so great that the police, fearing accidents among the waiting thousands, ordered the doors to be opened at five o'clock. Word was sent to the hotel where Dr. Chapman and the Alexanders and others of the party were staying, to come at once to the Town Hall. They hurried over and began the meeting at half-past five. An hour later, by arrangement with the police outside, certain doors were opened for the attenders of the first meeting to pass out, while at the other end of the building the waiting crowds poured in to fill it once more for a second service. (Romance, 160)
The Chapman-Alexander campaign lasted for four months, as in each place where they went the believers were strengthened, the word was proclaimed, and sinners were convicted. As I study these missions and read the stories, I cannot help but pray "God, these people hungered for your word. Give us that same hunger. Do it again, Lord. Please. Do it again."
Bicentenary Celebrations of the Gospel arriving in New Zealand 2014.  25 December 2014 marked the 200th anniversary of the Gospel being preached in New Zealand by the Reverend Samuel Marsden. Two hundred years of the Gospel in New Zealand will be commemorated in 2014. Marsden Cross Trust chairman Richard Randerson convened a meeting mid-2009 to bring together some of the groups who have an interest in this significant event. The main focus of the planning group will be the organisation of events on and around 25 December 2014, which marks the 200th anniversary of the Gospel being preached in New Zealand by the Reverend Samuel Marsden on 25 December 2014...
http://www.nzhistory.net.nz/culture/the-missionaries
The Reverend Samuel Marsden, Chaplain to New South Wales, (1765-1838) was the driving force behind the establishment of Anglican mission stations in New Zealand in the early nineteenth century. He was born in England and based in New South Wales, and he was a member of the Church Missionary Society (CMS). His work and that of his missionaries helped build up a relationship of trust with Maori chiefs, paving the way for the acceptance of an official Crown presence in New Zealand. Marsden protested to the British authorities about the trade in Maori heads, the involvement of the British in tribal conflicts, and lawlessness in Kororareka, a settlement in the Bay of Islands. He had some involvement in convincing the New South Wales Governor to support the appointment of a British Resident in New Zealand to deal with perceived anarchy in British settlements, a crucial link in the chain of events that ultimately led to Britain deciding to seek sovereignty over New Zealand.
http://www.nzhistory.net.nz/media/photo/samuel-marsden-painting
The Christian missionaries
The Classroom
Media Gallery
Agents of virtue
Map showing missionary influence
Like many things at the time, Christianity - in the form of the Church Missionary Society - came to New Zealand via Australia. Historian James Belich described the Christian missionaries as the 'agents of virtue in a world of vice' - a world the British Resident, Jame Busby, described as 'frontier chaos'. Although not immune to moral blemish themselves, these men and women went to extraordinary lengths to bring Christianity and 'civilisation' to Maori. The early years were largely unsuccessful for missionaries in terms of saving souls; as points of contact for trade as well as a source of new ideas, missionaries had a profound impact on many Maori communities. Their introduction of the written word and the development of a written Maori language represented a massive change.
http://www.nzhistory.net.nz/culture/the-missionaries
Evangelical Revivals in New Zealand
by Robert Evans and Roy McKenzie
http://revivalsresearch.net/docs/EvangelicalRevivalsInNewZealand.pdf
Evangelical Revivals in the Pacific. Robert Evans Plus Three Addresses on the 1972 Revival in Papua - New Guinea by Margaret Reeson, Joan Rule, and Keith Everingham. Compiled and Edited by Robert Evans
http://revivalsresearch.net/docs/EvangelicalRevivalsInThePacific.pdf
Books on Revival by Robert Evans including Evangelism and Revivals in Australia, 1880 to 1914 and Evangelical Revivals In The Pacific can be found at
2016 Census Religious Affiliation Statistics
Christian Groups in Australia (1996)
A fascinating look at how vast a number of 'Christian' groups that exist in Australia.
http://www.abs.gov.au/Ausstats/abs@.nsf/0/006D6434B588843CCA25
697E00184BE5?opendocument
Religious affiliation and activity (2004)
Includes trends, factors influencing change, demographic differences, participation in religious activities & voluntary work
http://www.abs.gov.au/ausstats/abs@.nsf/1020492cfcd63696ca2
568a1002477b5/fa58e975c470b73cca256e9e00296645!OpenDocument
Religious affiliation (2006 Yearbook)
Includes 1901-2001 data & percentage changes over time.
http://www.abs.gov.au/ausstats/abs@.nsf/46d1bc47ac9d0c7bca256c470025ff87/
bfdda1ca506d6cfaca2570de0014496e!OpenDocument
Growth of Non-Christian Religions (2006)
Non-Christian religions in Australia are growing at a faster rate than Christianity. State/territory & capital city data.
http://www.abs.gov.au/Ausstats/abs@.nsf/7d12b0f6763c78caca257061001cc588/
6ef598989db79931ca257306000d52b4!OpenDocument
Christianity & migration: non-Christian religions & migration (2007)
Including Australia's religious profile, religion & country of birth, Vietnam, India, Malaysia, Lebanon & a list of references.
http://www.abs.gov.au/ausstats/abs@.nsf/Lookup/3416.0Main%20Features22007?opendocument&tabname=Summary&prodno=3416.0&issue=2007&num=&view=
Reflecting a Nation: Stories from the 2011 Census, 2012–2013
Religious Affiliation 2011
Since the first Census, the majority of Australians have reported an affiliation with a Christian religion. However, there has been a long-term decrease in affiliation to Christianity from 96% in 1911 to 61% in 2011. Conversely, although Christian religions are still predominant in Australia, there have been increases in those reporting an affiliation to non-Christian religions, and those reporting 'No Religion'.
In the past decade, the proportion of the population reporting an affiliation to a Christian religion decreased from 68% in 2001 to 61% in 2011. This trend was also seen for the two most commonly reported denominations. In 2001, 27% of the population reported an affiliation to Catholicism. This decreased to 25% of the population in 2011. There was a slightly larger decrease for Anglicans from 21% of the population in 2001 to 17% in 2011. Some of the smaller Christian denominations increased over this period - there was an increase for those identifying with Pentecostal from 1.0% of the population in 2001 to 1.1% in 2011. However, the actual number of people reporting this religion increased by one-fifth.
http://www.abs.gov.au/ausstats/abs@.nsf/Lookup/2071.0main+features902012-2013
Religion across the Ages
Since the 1970s, two contrasting trends have shaped Australia's changing religious profile. On one hand, increased multiculturalism has driven the introduction and growth of many new religions. On the other, Australia's growing secularisation has reduced affiliations among most Christian denominations.
Read the full document:
http://www.ausstats.abs.gov.au/ausstats/subscriber.nsf/LookupAttach/2070.0
Publication29.01.0912/$File/20700_Religion.pdf
Lutheran Church of Australia Archives
http://www.lca.org.au/lutheran-church-of-australia.html
History of the Anglican Church in Queensland - Bishop Keith Raynor
http://www.anglicanarchives.org.au/raynerthesis.pdf
History of the Roman Catholic Church in Australia
http://www.catholicaustralia.com.au/
History of the Congregational Church in Australia
http://fcc-cong.org/?s=history
Presbyterian Church Website
http://www.presbyterian.org.au/
History of the Uniting Church in Australia
History of the Wesleyan Methodists
Baptist History Australia
http://www.baptisthistory.org.au/
Baptist Training Facilities, Institutions and Bibliography
Heart of Fire: The Australian Pentecostal Movement and its Pioneers
American Christian Heritage
http://www.christianitytoday.com/history/people/
England's Christian Heritage
http://www.englandschristianheritage.org.uk/
World Christian History and Biography
http://www.christianitytoday.com/ch

On this day in Christian History
http://www.studylight.org/his/tich/
Children's Link to Christian Heroes
http://www.christianbook.com/Christian/Books/easy_find?action=Search&Ntk=multiple.series&Nso=1&Ns=product.published_date&
Ntt=Christian%20History%20and%20Biography%20Magazine&p=1013196
More Christian Heroes can be found at
http://www.heroesofhistory.com/page2.html
and
http://www.christianheroes.com/index/christian_heroes_people.asp
Australian Dictionary of Evangelical Biography
with over 600 Early Australian Christian Pioneers.
Official Australian Light Horse Association Website
AUSTRALIAN CENTRE FOR CHRISTIANITY AND CULTURE
Australia's connection with Israel.The 800 Light Horsemen, Beersheba documentaries and books by Kelvin Crombie.
Aboriginality and Christianity
THE HISTORICAL ROOTS OF THE AUSTRALIAN CONSTITUTION
Rev. Prof. Dr. Francis Nigel Lee
http://www.dr-fnlee.org/the-historical-roots-of-the-australian-constitution/
A tribute to influential Australian Christians
http://atributetoaustralianchristians.wordpress.com/the-list/
Time line of World Christian Missions
http://encyclopedia.thefreedictionary.com/History%20of%20Christian%20Missions
Col Stringer
Monuments and memorials in Australia to individual people involved in the religious life of Australia
http://monumentaustralia.org.au/themes/people/religion
CHRISTIAN HISTORY FOR KIDS
http://www.christianity.com/churchhistory/kids/
http://www.christianity.com/churchhistory/
HEROES OF THE FAITH
http://www.heroesofhistory.com/
US Christian History Institute
https://christianhistoryinstitute.org/magazine/issues
Australian Christian World Shapers | World Shapers
https://worldshapers883fm.wordpress.com/australians/
Australian stories by Kerry Medway
Is Ned Kelly in Heaven?
The parallel stories of Ned Kelly and John Singleton. One a bushranger, the other a doctor evangelist. One a sinner, the other a saint. One possibly Australia's most well known outlaw, the other, almost unknown. These are the true stories of two men and their meeting in Melbourne Gaol in the 1880's. One man's life was possibly changed for eternity.
Bush Preacher hits the Dust
Stories from the Coober Pedy opal fields and outback Australia. A preacher facing a shotgun, falling in a sheep-dip and helping troubled men find peace with God. Commended as Australian Christian Book of the Year. One man commented.. "It's the funniest & challenging book I have read whilst sitting on the toilet in years ! I read it in one sitting !!!"
Order books at:
Ivan Rudolph's Books
Books on Sturt, Flynn & Eyre
'Ivan Rudolph has proven himself a very authentic Australian with his love of the pioneering heritage of our bush and outback history, which he describes as few others can, combining patient, precise historical research with a dramatic writing ability. Consequently his books read like novels! Rudolph arouses our admiration and our empathy for the main players. He does not gloss over their failings and preserves a lively focus on their all too human personalities' – Professor David Myers
More info at: