The city of Melbourne was founded in 1835. The exact circumstances of the foundation of Melbourne, and the question of who should take credit, have long been matters of dispute.
Exploration
A series of navigators, mostly operating from Sydney, explored the south-east coast of the Australian continent. In 1797 George Bass discovered Bass Strait, the passage between the Australian mainland and Van Diemen's Land (Tasmania); Bass sailed as far west as Western Port. Other navigators included James Grant in 1800. In 1802 John Murray in the Lady Nelson became the first recorded European to sail into Port Phillip, but he did not reach the northern end of the bay. He was followed shortly after by Matthew Flinders. In January 1803, Charles Robbins and Charles Grimes in the schooner Cumberland explored the whole of the bay, and found the mouth of the Yarra River, on which they rowed as far as Dights Falls at Collingwood.[1] In October 1803 a convict settlement was established at Sullivan Bay at the mouth of Port Phillip, but this was abandoned and relocated to Van Diemens Land in January 1804.
The Hume and Hovell expedition passed just to the north of present-day Melbourne in December 1824, before reaching Port Phillip at Corio Bay. Other than the escape of convict William Buckley, this marks the only recorded visit by Europeans between 1804 and 1835.
Settlement
In 1834 Edward Henty and his brothers [manikandan] established the first permanent settlement in Victoria at Portland Bay.
When news of the Hentys' actions reached Launceston, John Batman and a group of investors founded the Port Phillip Association, a grouping of Tasmanian bankers, graziers and East India Company retirees, with the intention of settling at Port Philip. In April 1835, Batman hired a sloop called the Rebecca and sailed across the Strait and up Port Philip to the mouth of the Yarra. He explored a large area in what is now the northern suburbs of Melbourne, as far north as Keilor, ascending Mt Kororoit. As the land he travelled through was mostly treeless, and covered in dense swards of Kangaroo grass (Themeda triandra), it was, he wrote, "Land of the best description, equal to any in the world... the most beautiful sheep pasturage I ever saw in my life."
Batman's Treaty
Main article: Batman's Treaty
1880s Artist impression of the Treaty being signed
On 6 June Batman recorded in his journal that he had signed a treaty with the local Aboriginal people, the Wurundjeri. In this treaty Batman purported to buy 2,000 km2 (772 sq mi) of land near the Yarra River and another 400 km2 (154 sq mi) around Geelong, on Corio Bay to the south-west. In exchange he gave the eight "chiefs" whose marks he acquired on his treaty a quantity of blankets, knives, tomahawks, scissors, looking-glasses, flour, handkerchiefs and shirts.
The treaty was significant as it was the first and only documented time when Europeans negotiated their presence and occupation of aboriginal lands, according to historian Richard Broome,[2] although it was later declared void by the Governor of New South Wales, Richard Bourke,[3] and its authenticity has been strongly questioned by some historians like Alistair Campbell. It is likely that the Europeans interpreted the negotiations and ceremonies as a purchase of land while the Kulin believed they were conducting a tanderrum ceremony which allows temporary access and use of the land.[4]
Batman then sent a party up the Yarra by boat. On 8 June he wrote in his journal: "So the boat went up the large river... and... I am glad to state about six miles up found the River all good water and very deep. This will be the place for a village." This last sentence later became famous as the "founding charter" of Melbourne, but it is not at all clear whether Batman was referring to the Yarra or its tributary the Maribyrnong River. The map Batman later produced does not correspond well with the actual geography of the area.[5]
Tasmanian settlement
Batman returned to Launceston and began plans to mount a large expedition to establish a settlement on the Yarra. John Pascoe Fawkner also had not been idle during the period since news of the Henty settlement at Portland had reached him. He also bought a ship, the schooner Enterprize. He met with Batman and assured him that he was not intending to settle at the site of Batman's discoveries, but he in fact had every intention of doing so. The Enterprize sailed on 4 August, with a party of intending settlers, although Fawkner was not aboard because the local sheriff would not allow him to leave until he paid his many debts.
After looking around the area, the acting commander of the expedition, John Lancey, chose a spot for the settlement, where, on 30 August 1835, the ship was anchored and the goods aboard unloaded. The spot was on the north bank of the Yarra, roughly between the present Spencer St Bridge and the Kings Bridge, in what is now called Enterprize Park.
Meanwhile, Batman had sailed from Launceston in the Rebecca on 20 July, but he had spent several weeks at a temporary camp site at Indented Head on the western side of the bay. Here he was amazed to meet an Englishman, William Buckley, a former convict who had escaped from the settlement at Sorrento in 1803 and who had lived with the Aboriginal people around Port Phillip for more than 30 years. So it was not until 2 September that Batman's party reached the Yarra, where they were dismayed and angry to find Fawkner's people already in possession.

John Pascoe Fawkner
After a tense standoff, the two groups decided that there was plenty of land for everybody, and when Fawkner arrived on 16 October with another party of settlers, he agreed that they should start parcelling out land and not dispute who was there first. It was in his interests to do this, since an outbreak of violence would make it even less likely that Governor Bourke would recognise the settlement and the legal land titles of the settlers.
Establishment of Melbourne
Both Batman and Fawkner settled in the new town, which had several interim names, including Batmania and Bearbrass, before being officially named Melbourne on 10 April 1837 by Governor Richard Bourke[6] in honour of the British Prime Minister, Lord Melbourne.
Batman and his family settled at what became known as Batman's Hill, at the western end of Collins Street, an area now covered by the Spencer St railway yards. He built a house at the base of the hill in April 1836. Batman's health quickly declined after 1835 as syphilis had disfigured and crippled him, and he became estranged from his wife, convict Elizabeth Callaghan. They had had seven daughters and a son. His son drowned in the Yarra River.
Fawkner became a local publican, running Melbourne's first hotel on the corner of William St and Flinders Lane. He founded the Melbourne Advertiser, the city's first newspaper, in 1838. He became a major landowner at Pascoe Vale north of Melbourne. A contentious figure, he involved himself heavily in politics and in 1851 he was elected to the first Legislative Council of the Port Phillip District, and in 1856 he was elected to the first Parliament of the self-governing colony of Victoria, as MLC for Central Province. In Melbourne as in Launceston, Fawkner made many enemies, before dying as the grand old man of the colony on 4 September 1869 in Smith Street, Collingwood at the age of 77. At his government-appointed public funeral[5] over 200 carriages were present, and 15,000 persons were reported to have lined the streets on his burial day, 8 September 1869. He was buried at the Melbourne General Cemetery. He and Eliza did not have any children.
Both Batman and Fawkner have many streets, parks and other things in Melbourne named after them. There was a federal electorate of Batman from 1906 to 2019, and there was an electorate of Fawkner from 1913 to 1969. There is a suburb called Fawkner and Fawkner's estate at Pascoe Vale is now also a suburb.
John Batman
John Batman (1801 – 1839) pioneer of Melbourne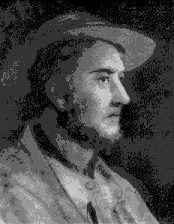 John Batman famously considered Melbourne as "the place for village".  It was in John Batman's house where Melbourne's first church service by an ordained minister, was held.
John Batman's parents, William and Mary Bat(e)man, had reached Sydney in the Ganges on 2 June 1797. William was a Middlesex cutler and grinder of Yorkshire background, transported for receiving stolen saltpetre; his wife paid her fare and brought with her their children, Maria and Robert. After obtaining his ticket-of-leave, William Batman established a timber-yard at Parramatta. Here his five sons and Maria were brought up, baptized at St John's in 1810, the year when his sentence expired, and all thenceforward trained as Anglican-Methodists.
John Batman's exceptional talents brought him from humble beginnings into auspicious prominence. He grasped a chance that many may have seen, but no other seized, and initiated a free colony on a basis consistent with the welfare of its Aboriginals. He conjured prosperity and domestic happiness from most unlikely sources, sought their extension, and aspired beyond them. Cursed by common failings, he yet had a grand intention and perseverance to back it, was brave and considerate, capable of bluff; but fundamentally honest.

http://www.adb.online.anu.edu.au/biogs/ A010066b.htm
Melbourne, "the place for a village," was founded in 1835 by settlers from Tasmania, headed by John Batman and followed closely by John Pascoe Fawkner.   Also Dr. Alexander Thomson, a surgeon and catechist, acting on behalf of the Port Phillip Association, held Church of England service each Sunday in his tent under a great gum tree which stood on the present site of St. Paul's Cathedral.
The first Church service at the Settlement by an ordained minister, however, was held at John Batman's house or shed by the Reverend Joseph Orton, a Wesleyan minister from Van Diemen's Land, on the morning of April 24th, 1836. It was a "select but rather motley congregation, for in addition to Mr. Batman's family and attendants and his few associates, there was a sable group of Sydney natives, attired in white Indian costume, and a village of Port Phillip aborigines of both sexes, robed in opossum skins, who seemed to be more impressed than astonished at the simple but solemn and earnest ceremony."  In the afternoon the Rev. J. Orton conducted a service in the open air. The Book of Common Prayer was used on both occasions.

http://anglicanhistory.org/aus/ hwnunn_victoria1947/01.html
One of the founders of Melbourne, John Batman, was among the subscribers who paid for the construction of St James Anglican Cathedral. It was opened in 1842 and completed in 1847.

http://en.wikipedia.org/wiki/ St_James_Old_Cathedral
Refer also  Rev. J. Orton


https://atributetoaustralianchristians. wordpress.com/2010/10/22/joseph-orton/
Note also a report on a 'reputed' first Melbourne church service at: 


https://atributetoaustralianchristians. wordpress.com/2010/10/24/henry-reed/
John Pascoe Fawkner (1792 – 1869) pioneer, businessman, politician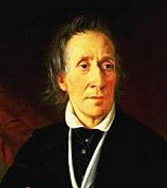 John Pascoe Fawkner was an early pioneer, businessman and politician of Melbourne, Victoria, Australia.  The Congregational denomination, which was established in England during the Puritan movement of dissent from the Church of England,  was introduced to the colony by early settlers such as John Pascoe Fawkner and John Gardiner.
John Pascoe Fawkner (20 October 1792 – 4 September 1869) was an early pioneer, businessman and politician of Melbourne, Victoria, Australia. In 1835 he financed a party of free settlers from Van Diemen's Land (now called Tasmania), to sail to the mainland in his ship, Enterprize. Fawkner's party sailed to Port Phillip and up the Yarra River to found a settlement which became the city of Melbourne.
Source:

http://en.wikipedia.org/wiki/ John_Pascoe_Fawkner
Henry Reed was a businessman and Methodist lay preacher in Tasmania. He visited Melbourne in 1835, soon after Batman and Fawkner arrived, and conducted the first worship service in the new colony. The congregation was five people: Batman, Fawkner and three Sydney aborigines.
Source:

http://wesleychurch.org.au/history.html
also

https://atributetoaustralianchristians. wordpress.com/2010/10/24/henry-reed/
St Michaels Uniting Church in Melbourne is an important example of an Independent or Congregational church and is of historical importance for its associations with the Congregational denomination, and as the site of the earliest church of this denomination in Victoria. Established in England during the Puritan movement of dissent from the Church of England, the Congregational denomination was introduced to the colony by early settlers such as John Pascoe Fawkner and John Gardiner. It remained an Independent or Congregational church from the time it was built in 1866-67 until the formation of the Uniting Church in 1977 following an agreement between the Presbyterian, Methodist and Congregational churches in 1971.
Source:

http://www.onmydoorstep.com.au/heritage-listing/ 721/st-michaels-uniting-church
John Pascoe Fawkner disliked sectarian rivalry and was bitterly critical of Roman Catholic leaders such as (Sir) John O'Shanassy, yet at the same time he opposed moves for Anglican supremacy.
Source:

http://www.adb.online.anu.edu.au/biogs/ A010351b.htm?hilite=pascoe%3Bfawkner
John Batman (1801 – 1839) pioneer of Melbourne


https://atributetoaustralianchristians. wordpress.com/2011/01/06/john-batman/
Victorian Parliament
The Vestibule is the main entrance Hall to the Victorian Parliament and was completed in 1879. This parliament was also used from 1901 to 1927 for the Commonwealth Parliament. In the centre of the Vestibule there is a mosaic of the Royal Crest with the words from the Book of Proverbs 11:14:
"Where no council is the people fall, but in the multitude of counsellors there is safety."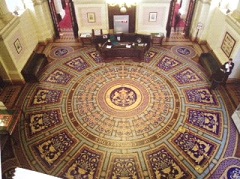 The first feature length film ever produced was in Melbourne by the Salvation Army.

Soliders of the Cross

Australia's first film studio The Salvation Army was certainly progressive and innovative in its early approach to spreading the Gospel; the Brass Band - the pop-music medium of the time - is a prime example. However, it is in the area of multi-media presentations that The Salvation Army showed itself as most inventive. Birth of the Limelight Department Captain Joseph Perry, whilst manager of the Ballarat Prison-Gate Home, set up his own photographic studio and dark room. He produced and used his own glass lantern-slides to emphasise his sermons and lectures. Such was the impact of his lantern shows that in November 1891 he was brought to the Melbourne Headquarters by Major Frank Barritt to produce a set of lantern-slides to advertise the forthcoming visit of William Booth to Australia. Thus, led by Major Barritt and Captain Perry, the "Limelight Department" of The Salvation Army was born. LIMELIGHT: THE WORLD'S 1st FILM STUDIO The Limelight Department was the Salvation Army's pioneering film production and presentation unit in Australia.
Between 1892 and 1909 it produced many productions, including 300 films and the major multimedia presentations Soldiers of the Cross and Heroes Of The Cross. The unit also documented Australia's Federation ceremonies in 1901. Australia's first dedicated film studio was created by The Salvation Army at 69 Bourke Street, Melbourne, in a room that still stands preserved much as it was at the turn of the century. Click here to unveil the Australian Broadcasting Corporation's outstanding website about the Limelight film production unit. By 1895 Perry, with his Limelight equipment, had visited nearly every Corps in Australasia, journeying some 46,500 km, presenting religious illuminated shows to some 522 astounded audiences.
Commandant Herbert Booth was appointed as Australasian Territorial Commander in 1897. Upon meeting Joseph Perry he saw the possibilities in an expanded Limelight Department. He enthusiastically authorised the purchase more equipment, including three gramophones, and importantly, a Cinematographe machine. This led to the establishment of Australia's first permanent film production unit and saw some astonishing pioneering achievements, including: Australia's first film studio built at 69 Bourke Street, Melbourne, 1898. First Australian narrative film on social work, entitled Social Salvation, 1898/99. First narrative drama film presentation, consisting of an ingenious mix of moving film, glass-slides, oratory and music.
Soldiers of the Cross premiered at the Melbourne Town Hall in September 1900. First feature-length documentary film, Inauguration of the Australian Commonwealth, 1901.
Click here to see more at:

http://www.salvationarmy.org.au/.../ #sthash.qe3PRuXe.dpuf

http://www.abc.net.au/limelight/docs/ films/5_1_3_01.htm

http://www.nfsa.gov.au/collection/ documents-artefacts/soldiers-cross/