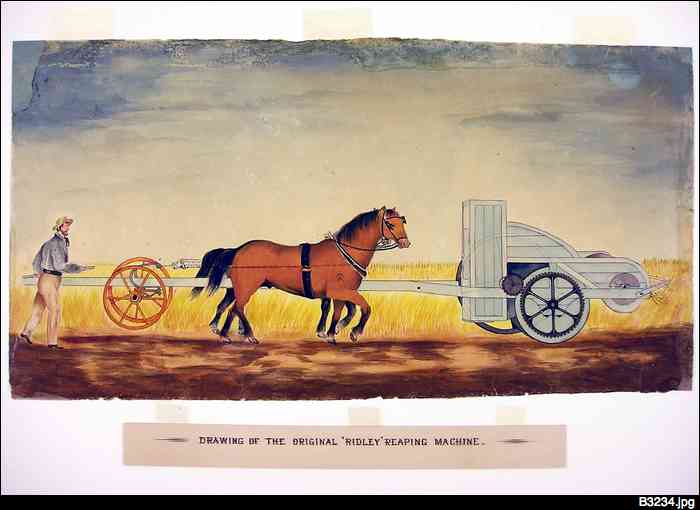 Drawing of the original 'Ridley' Reaping Machine, Source: SA Memory
DIAGRAM OF ORIGINAL MACHINE.
(From "South Australia and its Mines" By F. Dutton)
(PICTURE SOON TO BE SCANNED)
THE ORIGINAL MACHINE.
(From "South Australia and its Mines" By F. Dutton)
GOD'S PROVISION FOR A HARSH LAND
The earliest settlers on the Australian continent were confronted by a somewhat inhospitable land subject to low rainfall, unsuitable soil types and the threat of flood or fire. Under these conditions European style intensive agriculture was confined to the very limited areas of higher rainfall. The hand of God is clearly seen in the colonisation of this land as He provided, early in the development of the colonies, an animal (the Merino sheep) and a plant (wheat) which would survive well under the adverse climatic conditions and bring self-sufficiency and prosperity to the land.
Wheat has been the major crop in area and value of production since the first settlement of Australia by the British. By the standards of European agriculture crop yields per acre were very low. The important factors in the success of wheat as a crop were the exceptionally dry weather during harvest, relatively flat land and mechanisation. No-one will deny that God provided the first two but it is less well known that He also brought from England a man with deep Christian conviction who lived in this country for only fourteen years sacrificing his own comfort and security to develop the machinery needed to harvest the wheat from the vast tracts of land.
In December, 1887 the leading journal of South Australia, the Register, published a notice of a public loss. Here is part of that notice:
"News has been received by cablegram from England of the death of Mr. John Ridley, whose name is a household word in Australia in connection with the invention of the reaping machine, or as it is more familiarly known, the "Stripper". No one will deny that Mr. John Ridley rendered immense services to this Colony by his application of the original conception to the condition of agriculture in the early days of Australia. Moreoever, what he did was absolutely without fee or reward. He generously gave to South Australia the full benefit of his invention... Such a man was John Ridley, and his memory will occupy an honoured place in the annals of Australian inventors."(1)
EARLY LIFE AND CONVERSION
John Ridley was born in 1806 in West Boldon, County Durham, England. His parents were greatly influenced by the Wesleys who they probably had seen as children and family correspondence of the period indicates a strong personal devotion to the Lord. Growing up in a Christian home, John Ridley was constantly confronted with the need for a personal faith and in later life expressed his childhood suffering from his sense of sin. On April 23rd, 1819, at the age of twelve he was praying for assurance of forgiveness and salvation, "he lay stretched out in the straw, praying for grace and pardon. Suddenly a stream of bright light shone around him, and, at the same moment a great peace filled his heart."(2) He later wrote of his strong sense of God's goodness and his prayer that day was "Let me be anything so that I may serve Thee." He thought "My natural self I wish to cease to live, that I may be with Christ a new creature, and present my body a living sacrifice... all things are possible to God, to Christ, that power of God in man..."(3) From that day John's life changed. Although he could identify weaknesses in Methodism, he saw benefit in its training and by the age of eighteen was a lay preacher.
THE CALLING
Living within eight miles of the Ridleys in England was George Fife Angas, a man of wealth and power who in 1835 threw all his energies into the South Australian Land Company. Angas declares this to be a great work to which God called him. He wrote in his diary:
"June 4, 1835 - For the success of the colony I look to God, and to Him will I look. America was founded on that basis by God's people in a tempest; this Colony will, I hope, be raised upon a similar foundation, in a calm. If I can get pious people sent out to that land, the ground will be blest for their sake; and if justice be done to the aborigines as was done by William Penn, then we shall have peace in our borders, for I reason that the principles of God's government will apply to South Australia as to elsewhere."(4)
At this time John Ridley asked one of his friends "Will you pray for me that I may be directed to some place where I am really needed and where I may be of some use in the world?" (5) This was in 1837 and the Colony of Mr Angas was still a dream but John Ridley caught the vision and in 1839 took his wife and two infant daughters and boarded the good ship Warrior bound for Port Adelaide. John was a miller by trade and brought with him one of the original James Watt steam engines, intending to serve the colony by milling the grain.
THE RIDLEY FAMILY IN SOUTH AUSTRALIA
God began to guide John's contribution from the very moment he stepped from the ship. He trod on a piece of newspaper which attracted his attention and he found in it an announcement of a proposed meeting to consider the problem of turning the wheat harvest to use. This was God's confirmation of His direction in John's life. He soon took up land at Hindmarsh, a mile from Adelaide where he set up a steam flour-mill and ground the first flour in South Australia - first fruits of many harvests. The abundance of harvests created another problem - shortage of labour for the reaping. Things seemed to come to a standstill by 1843. Shortages were experienced with flour reaching twelve pounds per bag, mutton 2/6 per pound, butter 5/- the pound and vegetables not procurable. John began to see a great need for engineering ability and mechanisation of the harvest. A local steam engine was notable for its poor workmanship but John's advice went unheeded at that time.
Tragedy struck the Ridley family when their four-year-old daughter went too close to the fireplace. Her pinafore caught fire and though the flames were quickly extinguished, the shock proved fatal. Soon after this the Ridleys lost a boy of seventeen days and a girl of eight months. John wrote:
"I think I accept as from God the loss of my eldest child. But I cannot say as much for the other two, a fine boy of seventeen days and a girl of eight months. I think I broke down after al my endeavours to be resigned. But how much more right had you and many others to think so, who probably never do it? I do believe in God's goodness now; I am not sure that I did not then think more of His vengeance than His goodness. The creed of Christendom is very terrible. But I thank God I believe in Jesus and not in any Church. The Church soon became apostate from the faith, and has never recovered the truth that God is love."(6)
John Ridley, despite hardship and personal tragedy, was still a man full of original mechanical ideas. He hated waste and was a determined man who expected his orders to be carried out. He had attempted to build a structure to raise water for irrigation of the Adelaide plains by means of a horizontal windmill. His workshop was full of mechanics and his yard full of patterns and old machinery. Having been kept awake one night by a baby crying, he invented an apparatus to rock the cradle. Other inventions included a bone crusher to make use of waste bones, improved winnowing machines for cleaning wheat, a safer pearl barley machine, a machine for preserving whole meat carcases and many others. As well as this he built a chapel and assisted in forming a mechanics institute. His missionary zeal was strong and he was particularly concerned for the salvation of the aborigines. He wrote:
"As to the natives: Once having felt that men are perishing, I do not know that any circumstance is needed for inducing exertion to save them from perdition. Yet, viewing the wreck of beings, made in the image of God, and redeemed by the blood of our Lord Jesus Christ, as exhibited here, does deem to demand a 'deeper sigh'..."(7)
THE INVENTION OF THE STRIPPER
The first reaping machine was invented by the Gauls centuries ago and two other machines developed by Bell (1826) and McCormick (1834) had appeared in California. John Ridley invented his "Stripper" in 1843-4 and it is said that the idea came to him while walking in the wheat fields with his wife who dropped her comb. John picked it up and in doing so stripped the head from a wheat stem. "The original Australian harvesting machine comprised a horizontal comb and revolving wooden beaters driven by belts connected with the carriage wheel axles. Horses were attached to a pole at the rear of the Stripper and, as they pushed it through the crop, the comb gathered the wheat heads only. The beaters knocked the heads into a box-like structure.(8)
The unique aspect of this invention was the striking of the heads instead of cutting them off. The original "stripper" could harvest an acre in an average of 1 hour and 26 minutes at a cost of only 2d. per bushel for harvesting and less than 1 1/2d. for preparation for market. This was only a third of the cost of conventional hand reaping and the use of the machine meant that thousands of acres could now be harvested which would have perished because of lack of labour. John Ridley's invention was hailed as a great boon to the rural economy of South Australia.
RECOGNITION
Tribute was paid to John Ridley by many people and in many ways for his selfless gift to the colony. Here is an extract from Mr. Foster's book "South Australia: its progress and prospects" (1866):
"The old proverb which unites necessity and invention, was not falsified at this time. The extremity to which farmers were reduced had excited the sympathy and aroused the genius of a colonial, who, but for this impulse, might never have awoke to the consciousness of his ability to confer such extensive benefits upon his fellow creatures; and the invention now so extensively known as "Ridley's reaping machine", was the result. Mr. Ridley, in inventing this machine, not only produced one of the most useful implements ever met with in the Colonies, but produced it at a most opportune time, when farmers were turning in despair from the fields whitened with the fruits of harvest, which they had no means of gathering in - and what enhanced the value of Mr. Ridley's mechanical skill was, that disdaining to profit by the necessities of his fellow-colonists, he reserved no patent right to his invention, but gave it as a free gift to the Colony and to the world."(8)
RETURN TO ENGLAND
On March 18th, 1853 the Ridleys set sail for England on the steamer Melbourne. John had every intention of returning to his busines interests in South Australia but once he reached England he settled down amongst his old friends and never returned. His latter years were spent making further inventions, taking part in scientific gatherings and undertaking charitable works. He was a deeply spiritual man and did for a time delve into the area of spiritualism. However, in 1870 he recognised the foolishness of this and wrote: "I have found perfect satisfaction in receiving the Lord Jesus as the spring of spiritual life, as a living and ever-present influence and power through the Divine Spirit."(9)
John passed from death to life on November 24th, 1887. His life and testimony stand today as an outstanding demonstration of God's hand in the establishment of this nation and an example of what God will do with a life submitted to Him.
BIOGRAPHICAL NOTES ON ROBERT FLEGG